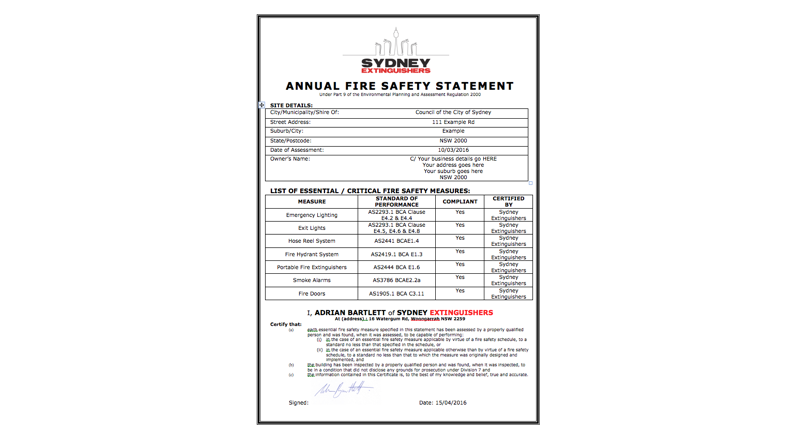 15 Apr

ANNUAL FIRE SAFETY STATEMENTS FOR SYDNEY

So your local Sydney Council has requested your building complete an Annual Fire Safety Statement (AFSS). You have 60 days to comply. Why you? What next? What is it? The easiest way to explain and AFSS is its like rego for your car but for your buildings fire safety! Every 12 months every building other than a house is legally bound to issue and Annual Fire Safety Statement to council. You can have your car serviced but still doesn't mean it will pass rego – same as your buildings fire safety certification. On the schedule for the Annual Fire Safety Statement you may see such items that need to be tested and certified as fire extinguishers, fire hose reels, fire blankets, smoke alarms, emergency & exit lighting.

Sydney Extinguishers breaks down what to do you if you have never had to do it before.
Get 3 x maintenance quotes from 3 x different fire companies in Sydney
Proceed with what you believe to be the best quote for your needs
The fire company completes the test and gives you a report for any repairs that might be needed
Get 3 x quotes for repairs (this keeps everyone honest and ensures you get the best deal)
Get repairs done by the approved contractor
Pay both Maintenance and repair invoices
Fire Company then issues the Annual Fire Safety Statement as Compliant.
Below is a list of what needs to happen once the AFSS has been received.
Put one copy of the AFSS in your file.
Put another copy or replace the existing AFSS on the notice board at the site (It is a council requirement that an AFSS be prominently displayed in every building)
I have copied the NSW Fire & Rescue in on this email so there is no need to post a copy to the Commissioner of the NSW Fire & Rescue.
Finally you need to post a copy into your council with the relevant paper work that you would have been sent for payment and too avoid late fees.
If approved to do the Annual Fire Safety works for your business, Sydney Extinguishers would then call you every 6 months or as applicable for scheduled fire testing and annual certification making your life just that little bit easier.
Sydney Extinguishers loves Annual Fire Safety Statements!