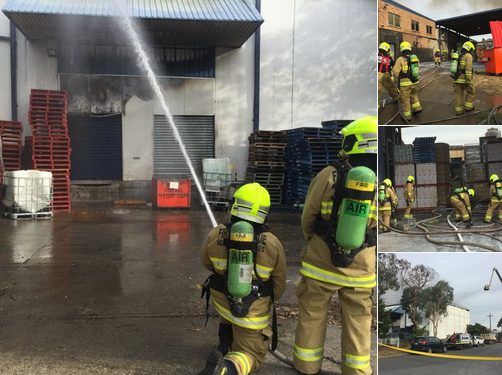 18 May

FACTORY FIRE INJURES TWO AND DESTROYS A PROPERTY IN AUBURN

Date 18/05/16  Factory fire & explosion injures two and destroys a property at Auburn in Sydney's west

60 firefighters have fought back flames as they try to bring a warehouse fire under control.

Two men have been injured after a fire and suspected explosion at a factory in western Sydney on Wednesday afternoon. The men, one aged 59 and the other thought to be in his 20s, both suffered burns when the fire erupted on Highgate Street in Auburn just before 2pm. Multiple ambulances were called to the double-storey factory, which recycles plastic, cardboard and timber. Smoke billows from a factory fire in Auburn. A plume of black smoke from the fire could be seen around Sydney.

The 59-year-old was treated for burns to his hands and face and was taken to Royal North Shore Hospital, where there is a specialist burns unit. He was in a stable condition on Wednesday afternoon. The younger man was taken to Westmead Hospital with burns to his hands and arms. He also remained in a stable condition.

Witnesses described dramatic scenes as several explosions, then screaming, broke the afternoon silence.

One witness told Nine News an injured man ran towards him and asked him to get a hose."I just hosed him down," the witness said. "All the skin was peeled off his hands, all burnt, and his hair was all singed."

Another witness said there were "a couple of explosions" before factory workers came "racing out".

"Just like a couple of gunshots, then you hear the screaming," the man said. "A lot of people running out of the building."

More than 70 firefighters from 15 stations battled the blaze with 14 trucks and a ladder truck, while 100 people from the factory and surrounding businesses were evacuated.

Superintendent Ian Krimmer from Fire and Rescue NSW said the fire had been contained but continued to burn through the factory's roof, so crews were expected to remain on the scene for "a number of hours".

"The first crews were on scene within six minutes," Supt Krimmer said. "We have a factory structure 50 metres by 30 metres, containing a large amount of recyclables that are highly flammable.

"We're preventing the fire from spreading to the factory behind, and that has been successful. There are concerns that one of the walls of this factory that's on fire might collapse, that's why we're not going into the structure."

Don't let this happen to you! Call Sydney Extinguishers today to ensure your fire safety equipment is up to date!