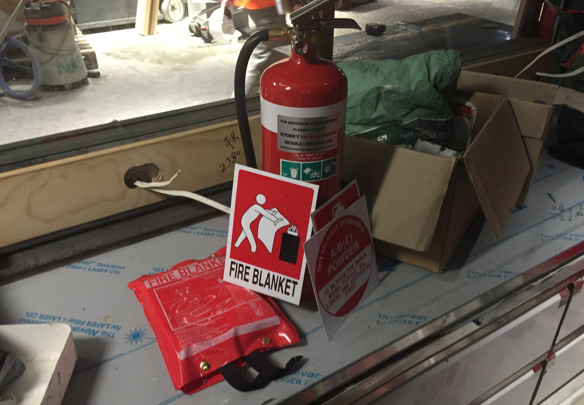 14 Apr

FIRE EXTINGUISHER TESTING & SERVICING IN SYDNEY

Sydney Extinguishers knows that testing and servicing fire extinguishers is an important part of protecting life and minimising damages to your workplace or home. While fire equipment technicians can check your fire extinguishers, refill, recharge & pressure tests when needed, they are often only responsible for performing basic servicing routines such as inspections, maintenance & certification. Technicians of Sydney Extinguishers are qualified in their field of practice and can give you advice on what to do and what not to do.

As a business manager in Sydney, you will want to carefully review all safety aspects of that business. This include fire extinguishers, fire hose reels, fire hydrants, fire blankets, sprinklers, pump sets, emergency & exit lighting. This is achieved by making sure that you are in compliance with AS1851.1.

A 6 monthly and annual fire safety schedule includes a testing plan making sure that your fire safety equipment is ready to perform for any fire emergency that you may have in Sydney. There are checks that you can do for making sure your fire safety policies are in order or you can call a company like Sydney Extinguishers to take care of your assets.You need to remember that an Annual Fire Safety Statement is due to council every 12 months or you can be fined!


Your workplace environment could be impacting the fire extinguisher performance. There are such factors in which fire extinguishers are subjected too.

E.g. Workplaces with harsh environments may require additional inspections, maintenance and testing. For example, extreme temperatures, overexposure to sunlight or moisture, dust or dirt filled areas, and heavy vibrations from industrial machinery could increase failure rates of fire extinguishers. Under these circumstances, you will want to have your fire extinguishers checked more often.

Has the risks or Sydney building changed from the last tests?

Fire extinguisher types that were originally installed may not be appropriate if the type of fire risk in your workplace has changed. For example, if additional electronic switchboards have been installed recently, then a Class A, B or E extinguisher would also be appropriately installed and maintained. If flammable liquids have been added to productions, then a class B extinguisher would be most appropriate to have on hand. Review your workplace risks and if necessary, update the type of extinguishers located on your facility's premises to properly protect all work areas.

Are all of your portable fire extinguishers mounted and installed correctly?

Routine checking of the brackets, cabinets or enclosures used for your fire safety equipment will ensure supportive function should your extinguishers be needed for emergency response. They should be solidly mounted to safely secure the extinguisher, while also allowing for labels, signs and yellow AS1851 inspection tags to be easily read. These a whole punched for NEW, 1 for Annual testing, 2 for 6 monthly and 4 for a 5 yearly refill & pressure test.


Be careful to not locate your extinguishers in a position where accessing them could present additional hazards to a potential user. Wherever practical, extinguishers should be located along regular paths of travel and near your Sydney building exits.

Does your fire extinguisher locations meet visibility Australian Standards?

Fire extinguisher signage and locations should be clearly visible from distances of up to 20 meters in all directions of approach and should not be within 2m of any main switch boards or possible hazards.

Will your Sydney facility need additional fire extinguishers?

Review the locations of your existing fire extinguishers to determine if more are needed for handling any particular area. Construction or expansion of any coverage area creates a situation where you will need to assess equipment locations and make sure your entire workplace area adheres to AS 2444 standards.

When you have questions about fire extinguisher testing and servicing, consult with a trained Sydney fire technician specialist like Sydney Extinguishers to make sure that you understand the requirements, standards and how to best implement them at your Sydney Workplace

Sydney Extinguishers Loves Fire Extinguisher Testing & servicing in Sydney!