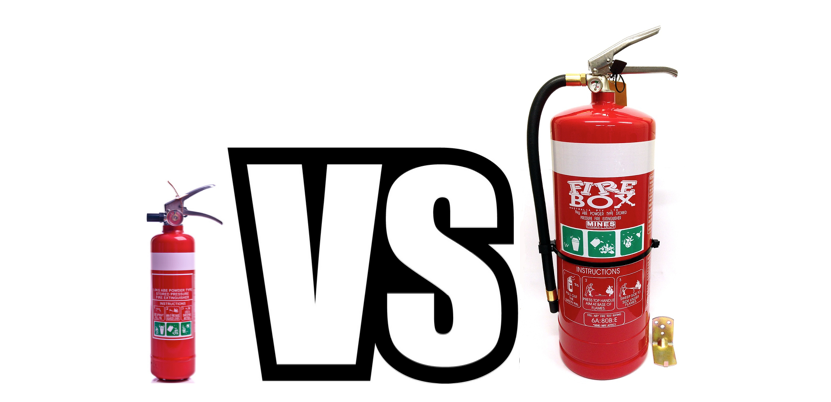 18 Apr

SMALL FIRE EXTINGUISHERS VS BIG FIRE EXTINGUISHERS

Ok we all know that portable fire extinguishers come in different shapes, sizes, types and colours. Today we are going to be talking how Sydney Extinguishers interprets the Australian Standard to make life simple we will be discussing Dry Chemical Powder (DCP) Fire Extinguishers for Class A, B & E type fires (ABE). (A being wood paper plastics – B being Flammable & Combustible Liquids & E Being Electrical type fires) As you can see the ABE DCP Fire Extinguishers covers quite a few types of fires and is our main fore extinguishers of installation. It is with a doubt 75% of our business at Sydney Extinguishers.

All buildings have ratings, classifications & risk factors of them having a fire which makes things complicated. At Sydney Extinguishers we have a general rule and this is it;
1kg & 1.5kg DCP ABE Powder fire extinguishers are designed for Cars, boats & Caravans
2kg & 2.5kg DCP ABE Powder fire extinguishers are designed for Trucks & Buses
4.5kg DCP ABE Powder fire extinguishers are designed for Office, common area & kitchen use
9.0kg DCP ABE Powder fire extinguishers are designed for Warehouse and Car park use
The most common mistake we see people make is by installing a 2.5kg ABE DCP fire extinguisher where a what should be a 4.5kg DCP Fire extinguishers just to save an extra $20.
Now let Sydney Extinguishers tell you some of the difference between the too.
The 2.5kg comes with a vehicle bracket as it is designed for vehicles (Trucks & Buses)
It has almost half the amount of powder
It has half the amount of USE time (which is really important when fighting fires)
They are around $20 cheaper
The 4.5kg ABE DCP fire extinguishers gives you around 20 seconds discharge time
The 4.5kg Weighs when full in total around 7.4kg so everyone on this planet can carry it!
The 4.5kg Comes with a wall bracket as its designed to be hung on the wall in your home, office or workplace
Don't be fooled with the smaller fire extinguishers you can purchase from Bunnings and even Aldi these days! They are not for your workplace – they are for your home, boat, car, caravan, truck or bus and they still need to be tagged and tested.
Sydney Extinguishers DOES NOT Sign off on Annual Fire Safety Statements were any fire extinguishers small than 4.5kg ABE DCP fire extinguishers exist. We would ask that you replace then with the correct size ones and take the smaller fire extinguishers home for your kitchen, garage, car or boat. For the extra $20 that you might spend it is worth every cent to do it properly especially if one day you are faced with a fire and its runs out because its too small or doesn't work properly. All fire maintenance and fire extinguishers needs are TAX deductable so spend the little extra and ensure you, your family, tenants and employee are safe!
For more information on Fire extinguishers in Sydney Please feel free to contact Sydney Extinguishers today. Sydney Extinguishers loves BIG fire extinguishers!